The Silent Knight 5207 is a fire alarm control panel that has built-in display codes to indicate trouble conditions. Some common trouble code explanation includes:
Trouble with Accessory Power
Trouble With External Printer
Trouble With EEPROM Memory
Keypad Power Trouble
Trouble with Keypad
Some fundamental actions you can take with this include clearing alarm memory, checking for trouble indications, and silencing trouble alerts. Let's look at the solutions with this article. 
Key Takeaways
The Silent Knight 5207 fire alarm panel uses trouble codes to indicate various issues, and understanding these codes eases troubleshooting.

Regular testing of your 5207 alarm system ensures it functions correctly, either through a self-test or manual testing process.

Silencing alarms temporarily can be necessary, but it's crucial to fix the underlying issue to avoid potential risks.

Resetting the alarm should only be done after fixing the issue that triggered it.

When in doubt, seek professional assistance to address the issues with your Silent Knight 5207 system.
What Are The Trouble Codes in Silent Knight 5207?
The table below provides explaation about the trouble codes shown on the main panel's built-in touchpad display:
| | |
| --- | --- |
| Trouble Code | Explanation |
| 0 to 16 | Fire Drill, Fire Alarm, Alarm Memory  |
| E0 | Dialer Trouble  |
| E1 | External Printer Trouble |
| E7 | EEPROM Memory Trouble  |
| F0 | Trouble with Keypad Power |
| F1 to F7 | Trouble with Keypad |
| A1 to A4 | Trouble with bell output |
| P1 | Trouble with Smoke Power |
| P2 | Trouble with Accessory Power |
| P3 | Earth Ground Fault to Circuit Ground |
| P4 | Earth Ground Fault to Power |
| P0 | Printer Out of Power |
| dL | Communicator lost transmitting data  |
| dF | Communicator Failure |
| dC | Low Battery |
| Ac | Low A/C Power |
| L1 | Phone Line 1 Fault |
| L2 | Phone Line 2 Fault |
Trouble Condition of Silent Knight 5207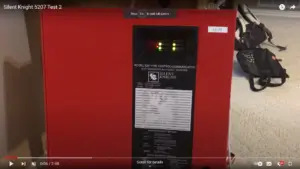 The warning sound goes on when the control panel detects a problem in the Silent Knight 5207. You alarm will beep and lasts for half a second like the first alert smoke detector. This beep will repeat every four seconds until the issue is resolved.
It's wise to get your alarm system fixed promptly when any problem arises. If you are not sure how to fix it, contact the company that installed your system for immediate service.
System Testing for Trouble Condition
The Silent Knight 5207 usually runs 24/7 and doesn't need much maintenance. However, regular testing will make sure your system works all the time. You can either go for a self-test or manually test the alarm.
Self-Test: The Silent Knight 5207 system sends a test signal to your security company's central station at a scheduled time. However, you have the option to manually initiate a test at any time.
Manual Test: Here are the instructions for a manual test:
Press the "0" button.

Press the ENTER key.

Input a correct operation code. 
The system will now conduct three tests: 
A lamp display test, 

A bell test, and 

A communicator test. 
During these tests, you might notice some LEDs or blinking green lights turning on like first alert detector which are usually off. They will either stay steady or flash, which is normal.
Silencing Trouble Warning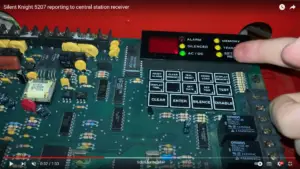 There are times when you might need to quiet down an alarm or warning signal. For instance, you need to silence a smoke detector temporarily when it goes on and off for no reason. . Check carefully to not turn it off completely.
Similarly, your security provider will recommend muting the alarm instead of resetting it. Their technician can come and inspect it for any issues later. 
If you silence the alarm, it will stop making the beeping noise. However, the problem that triggered it will exist unless you fix them.
Follow these steps to silent the alarm:
Press the "SILENCE" button.

Input a valid operational code from the manual.
Resetting the Alarm or Trouble Warning  
If you hear an alarm or trouble warning, it means your alarm system isn't functioning correctly. Reset it and make the system default. Reset it only after you've fixed the issue that triggered the alarm or trouble. Here's how to reset it:
Press the key "1".

Press ENTER.

Enter a valid code to operate the system.
However, If you have with the emergency light battery, you can replace it. You can find the item here and order online. 
Here's a video guide of Silent Knight troubleshoot
Frequently Asked Questions (FAQs):
Can I Reset the Dialer of Silent Knight 5207?
Yes, you can reset the dialer of SK5207 easily by these steps. Press the number "3", then click on the ENTER button. Finally, enter the access code, which can be either "0" or "1".
How Can I Enter Silent Knight 5207 Programming Mode?
Enter Step Programming by dialing 2 + 7 Enter + Zero button. If it shows TRY AGAIN, then the zero code may altered from the default 123456. Dial STEP + STEP + CLEAR + CLEAR to exit the mode,
What is the Function of Disabling Zone in Silent Knight 5207?
To turn a zone on or off, do the following. Enter the zone number and
press the DISABLE button. Now, enter a valid operating code. The DISABLE button works like a toggle switch, you can use it to both enable and disable the zone.
Closing Words
It is important to follow the user manual and the basic commands for the Silent Knight 5207 Trouble Codes.
If your trouble issue is not resolved, it may be a signal of a more cruicial issue with the system. In that case, seek professional help without any further delay.